How to Avoid Breakouts When Wearing a Face Mask
June 19 2020
As businesses reopen and we all get closer to our regular routines, the CDC recommends wearing face masks in public. This is a great way to help stop the spread of COVID-19, but you may have already noticed an unwanted side effect: skin breakouts. If you've had trouble with your skin since you've started wearing your face mask, our experts at Bellezza Avanti Salon & Spa have some great skincare advice for you.
Acne breakouts can happen for a few reasons, especially if you wear a mask most of the day because you're an essential worker.
Friction. The material from your mask rubs against your face all day, and this can irritate your skin. If your mask fits tightly, this will add to the issue.
Inflammation and irritation. Many masks are made of cotton and other absorbent materials. That means they can absorb moisture from your skin, which can lead to dryness and irritation. In addition, since we wash masks often, irritants from detergents used in the wash can also irritate the delicate skin on your face.
Lack of air circulation. With a mask up against your face all day, your skin is trapped underneath and doesn't get the advantage of regular air flow. Combined with trapped moisture from breathing, this can create a moist, warm environment where bacteria that can cause breakouts will thrive.
It's crucial that you wear a mask for protection from the virus, so thankfully there are steps you can take to keep your skin healthy and breakout-free while wearing a face mask.
Choose a breathable material. While cotton, as we mentioned, can absorb some of your skin's moisture, it's also breathable and is a good choice for a non-medical face mask.
Avoid makeup. Many of us are uncomfortable without makeup, but when you're wearing a mask all day, it's important to have clean skin underneath. Makeup can clog your pores and add to the issues caused by wearing your face mask.
Cleanse and moisturize. Start off your day with your regular skincare routine to keep your skin healthy. That means cleaning and moisturizing with products that are formulated for your skin type, dry, oily, combination, or sensitive.
Change your laundry detergent. If you have sensitive skin, consider trying a new detergent while you're wearing face masks regularly. Select a fragrance-free alternative without harsh ingredients that can irritate, and don't use fabric softener when washing your mask.
Avoid ear chafing. Masks are generally comfortable, except for the elastic that fits over your ears. If you're an essential worker and you're wearing a mask all day, avoid irritation around your ears by using an extender, a band that wraps around the back of your head where you attach the elastic, or by attaching the ear elastic to a headband or clips.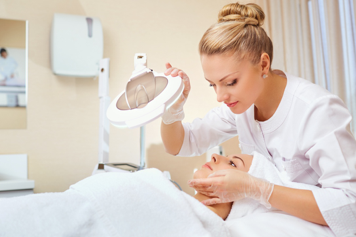 Pamper your skin with regular professional facials. The best way to keep your skin healthy and free of breakouts is through regular skincare, and professional facials are an important part of that routine. At Bellezza Avanti Salon & Spa, we have a variety of customized facials that address your skin's individual needs to ensure the healthiest possible skin, which has the best chance of fighting breakouts when wearing face masks all day. Our professional facials use Eminence and FarmHouse Fresh products to keep your skin soft, healthy, and hydrated all day. Our professional estheticians will evaluate your skin's needs and create a personalized care plan just for you, which will also include a customized skincare regimen for home use between professional facials.
Lip care. After a day under the face mask, your lips may feel dry. If your lips have been dryer than usual after wearing your mask all day, our lip polish exfoliators followed up with professional lip balm can be the perfect solution.
Need some tender loving skincare? Make an appointment today at Bellezza Avanti Spa & Salon for a professional facial. Our experienced estheticians will create a skincare program custom designed just for you! Visit us at 1114 Williams Reserve Blvd., Suite A in Wadsworth, make a reservation online, or call 330-336-8411 to schedule your appointment. You can also schedule an appointment on your mobile device with our exclusive mobile app, available for free on iTunes or Google Play.