Bellezza Avanti Get Amazing Skin with Aqua
September 1 2021
Get Amazing Skin with Aqua-Fusion Facials
If you've noticed that your skin isn't quite at its best lately, it may be time to add professional facials to your skincare routine. Professional facials help address specific skin issues like dryness or breakouts, and they give you the benefit of a professional esthetician's care – who can spot potential issues before they become a problem. At Bellezza Avanti Spa/Salon, we're happy to introduce one of our newest professional facial treatments – Aqua-Fusion Facials. 
 What is an Aqua-Fusion Facial ?
Simply put, it's a gentle and effective hydradermabrasion treatment that helps you get the healthiest skin possible. This amazing treatment will help everyone's skin look and feel healthier, but it's especially effective for those with skin issues like wrinkles, breakouts, and uneven skin tone. 
What is hydradermabrasion ?
The best way to describe hydradermabrasion is to break it down: hydra means water, or hydration, which your skin needs to keep skin cells healthy. Derma means skin. Abrasion is a form of exfoliation that uses a gentle abrasive action to remove dead skin cells and stimulate cell renewal. Therefore, a hydradermabrasion treatment means your skin will get a soothing infusion of moisture along with an exfoliating treatment that makes your skin healthier and keeps it looking young.
Do hydradermabrasion treatments feel uncomfortable ?
Absolutely not! The Aqua-Fusion Facial is gentle and soothing and won't irritate your skin. You'll get a relaxing, non-invasive treatment that helps make your skin softer and suppler, with a healthy infusion of vital moisture.
Who can benefit from an Aqua-Fusion Facial ?
Aqua-Fusion Facials are great for just about everyone, but they also help address some specific skincare issues that you might be experiencing, such as:
• Fine lines and wrinkles
• Dry, flaky skin
• Clogged pores
• Blackheads
• Hyperpigmentation
• Uneven skin tone
• Dull skin in need of revitalization
How do Aqua-Fusion Facials work ?
Whenever your skin receives a professional exfoliating treatment like Aqua-Fusion Facials, it removes the layer of dead skin cells and pollutants that are on the surface. This sends signals to the skin that it needs to produce more skin cells, as well as to produce more collagen and elastin proteins.
When we're very young, our skin works fast to replace cells and proteins. But as early as our 20s, this regenerative process starts to slow down. That means cells aren't replaced as quickly and proteins that keep skin soft and supple are slower to produce. When that happens, skin can start to show gaps – fine lines and wrinkles – and surface issues like scars and dark spots don't fade as quickly.
The Aqua-Fusion Facial helps restore all of these processes, and it delivers a vital infusion of moisturizer as well. This combination is incredibly effective at helping your skin look and feel younger, softer, and brighter.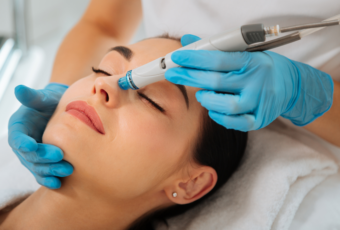 How often should I have Aqua-Fusion Facials ?
Everyone has different skincare needs, so talk to your Bellezza Avanti esthetician to determine the best schedule for your skincare treatments. In most cases, we recommend treatments at least once a month. That way, our estheticians can assess your skin regularly to determine if there should be a change in your treatment – including the skincare regimen you do daily at home. 
There's an extra benefit to scheduling your facial treatments every month – regular spa facial treatments also give you time to relax and unwind from the stress of the day. We all get busy – but scheduling some time for your own self-care is always a must!
Get the best skin ever with professional Aqua-Fusion Facials by the expert estheticians at Bellezza Avanti Spa/Salon! Make an appointment today and we'll help you choose the right skincare treatments to help your skin stay healthy and soft. You'll find us at 1114 Williams Reserve Blvd., Suite A in Wadsworth, OH. You can also make a reservation online or call 330-336-8411 to schedule your Aqua-Fusion Facial appointment. Prefer to schedule your appointment on your mobile device? Download our free mobile app today. You'll find it on iTunes and Google Play.