Healthy Skin Begins with Regular Facials by Bellezza Avanti Professionals
December 20 2019
Your face says so much about you – it expresses your emotions and presents your personality to the world. The skin on your face is exposed to the elements 24/7, so taking care of it is crucial. Even when you stick to a daily routine of cleansing and moisturizing, there are still deposits of dead skin and pollutants that only a professional facial can remove. That's why regular, professional spa facials are a vital element for clean, healthy, radiant skin. 
At Bellezza Avanti Spa/Salon, we're here to help, offering a variety of professional facial treatments to address your skin's unique needs. Our skincare line, Eminence Organic Skin Care, offers effective and professional natural, organic products offered only in leading spas worldwide. Every facial begins with a skin analysis. Perhaps you have experienced dryness, excess oil, or even acne. Maybe a few lines and wrinkles are appearing. Sometimes you just feel like your skin is dull. No matter the skin type or unique needs, we are here to help you have that youthful, glowing healthy skin. Today, we'll talk about a few of the many treatments we offer, each targeted to specific needs to personalize your spa facial experience.  
Facials. When choosing a facial treatment, it's important to consider your individual skincare needs. Your professional esthetician can analyze your skin's condition and recommend the best facial for you. 
Arctic Berry Illuminating Facial. Troubled by dry, dull-looking skin or uneven pigmentation? This decadent facial treatment uses powerful arctic berry for a deep, effective exfoliation that helps stimulate skin rejuvenation and gives you a fresh, glowing complexion.
Acne Advanced Treatment Facial. If fighting acne is a part of your everyday routine, this facial can help with a botanical-rich formula that eliminates excess oil and helps prevent scarring.
Dream Weaver Facial. This relaxing facial massage and oil treatment deliver a blend of botanical oils rich in fatty acids, including Hi-Bio full-spectrum hemp oil with cannabinoids. Cold-fermented green gram extract supports natural healing processes and provides powerful free-radical fighting tannins. The finishing touch is a three-milk moisturizer and eye serum designed to smooth and tighten. 
VitalSkin™ Targeted Treatment Facial. Our VitaSkin™ treatments are targeted to address specific areas of your skin. They deliver a powerful, concentrated dose of vitamin-rich organics right where your skin needs it for dramatic results and bright, healthy skin.
Stone Crop Detoxifying Facial. With constant exposure to the elements, your skin fights of pollution and toxins all day long. Beat the effects of pollution with our Stop Crop Detoxifying Facial treatment, the ultimate weapon to fight damage caused by exposure to the environment. The magic ingredient is skin-brightening, nutrient-rich microgreens, which gently but effectively eliminate impurities and revitalize your skin for a silky soft complexion.
Express Facial. In a hurry? Our basic express facial is suitable for all skin types and includes an arm and hand massage.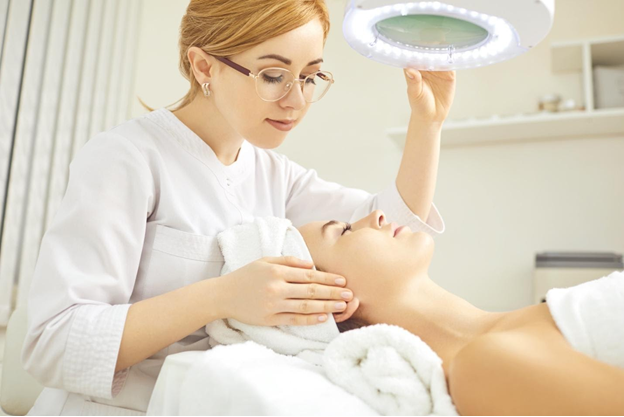 Age Corrective Eye Treatment. Combined with powerful antioxidants, peptides, and plant-derived stem cells are combined with our exclusive blend of exfoliating agents to treat advanced pigmentation, acne, and aging conditions.
Oxygen RX Treatment. Every cell in your body needs oxygen to survive, and optimal supplies of oxygen can improve cell functions. For your face, that means improving collagen production and cell repair and reducing the presence of bacteria that can cause acne. 
Signature Facial Peel. Our specialty facial treatments are designed exclusively for your skin. Our peels are suitable for all skin types and use powerful enzymes and plant-derived stem cells to promote cellular turnover and healthy skin function.
Hydrojelly Mask. Our hydrojelly mask is designed to infuse vital nutrients and leave your skin hydrated and healthy. 
Dermaplaning. This effective manual exfoliation treatment removes unwanted facial hair and dead skin cells, softens wrinkles and fine lines, and allows nourishing skincare products to penetrate deeply. 
Add-Ons. Add an extra boost to your customized facial treatment with: 
  **Lip Mask
  **Lip Treatment
  **Sweet Sugar Lips
  **Eye Mask
  **Sinus Smoother
  **Ultra Add-on Eye Treatment
  **Chocolate Citrus Decollete
  **Hand and Foot Treatment with Steaming Wrap
Having spa facials on a regular schedule helps ensure lasting benefits from your individualized treatment. Your skin deserves the ultimate in personalized care. Make an appointment at Bellezza Avanti Spa/Salon today. Our professional estheticians provide an individualized skin analysis to determine the best treatment for your individual needs. You can find us at 1114 Williams Reserve Blvd., Suite A in Wadsworth, make a reservation online, or call 330-336-8411 to make an appointment. Prefer to schedule an appointment on your mobile device? Download our free app from iTunes, Google Play, or Amazon.