Bellezza Avanti Sugaring Treatments for Soft
October 1 2021
Sugaring Treatments for Soft, Smooth Skin that Lasts
Everyone has a little unwanted hair, and there are lots of different hair removal techniques available. Most of the ways you can remove hair at home are either ineffective or don't last more than a day. In the salon, professional hair removal techniques are much more effective. One of the most effective techniques is sugaring, which works in a similar way to waxing, with a few key differences.
What is sugaring ?
As with waxing, sugaring involves having your expert esthetician at Bellezza Avanti Spa/Salon apply a substance to your skin in areas of unwanted hair. When that substance is removed, that unwanted hair comes with it!
While waxing uses natural wax for this substance, sugaring uses a substance made with natural sugar and citrus to remove hair.
What are the advantages of sugaring ?
Overall, sugaring works about the same as waxing, which is also an effective hair removal technique. For some people with sensitive skin, sugaring can be a better alternative.
• Less discomfort for sensitive skin. Although waxing is also only minimally uncomfortable when done by the professionals at Bellezza Avanti, sugaring has some advantages. The sugar substance used will not stick to living skin cells, which means when it's removed, only the layer of dead skin cells come with it (as well as the hair). This is an effective form of exfoliation that can cause a lighter sensation of pulling compared with waxing. In addition, sugaring works by removing hair in the same direction that it grows, which can be more comfortable for those with sensitive skin.  
• Lower heat. Waxing must be heated to its melting point before use for hair removal. Sugaring uses a sugar and citrus substance that's only warmed up to your body temperature, so it can be more comfortable for people with skin that is sensitive to heat.
• Water soluble. Because it dissolves when wet, the substance used in sugaring can be easily removed completely without any residue left behind. 
• Less change of post-treatment irritation. For the same reason why sugaring can be more comfortable during treatment, there's also a lower chance of irritation after your hair removal, with less redness and irritation. 
Gentle enough for facial hair ('peach fuzz'). Sugaring is so gentle that you can use it on your face without worrying about excess irritation. It's so effective that it can even remove those fine vellus hairs we know as peach fuzz for silky smooth skin.
What's it like to have a sugaring treatment ? Depending on the area treated, it usually takes about 30 to 45 minutes for a sugaring treatment. Like a waxing treatment, you'll relax while your Bellezza Avanti esthetician applies and removes the sugaring substance for smooth, silky soft skin. 
As with waxing, you'll want to avoid shaving before your appointment (so your hair is long enough for the substance to remove it properly), and your esthetician will give you advice on what to avoid before and after your appointment.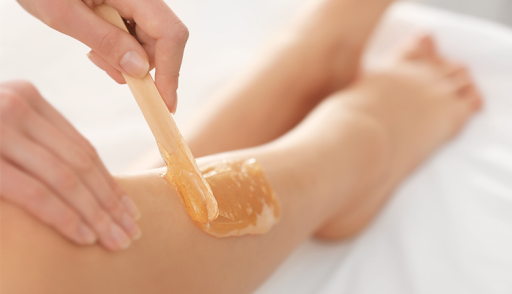 How long does sugaring last ?
Like professional waxing treatments, professional sugaring treatments are long lasting, giving you silky smooth skin for up to a month. 
Regular sugaring appointments that target a specific area can help weaken the follicles so that hair grows back finer and weaker. Over time, regular sugaring can even cause hair to stop growing in some areas that are frequently treated. Where does sugaring work? Sugaring works for effective hair removal for men and women just about anywhere you have unwanted hair, including:
• Legs
• Arms
• Back
• Underarms
• Bikini area/Brazilian
• Face – Chin/Brow/Lip
Want effective, long lasting hair removal? Make an appointment today at Bellezza Avanti Spa/Salon and let our expert estheticians show you how easy and effective professional sugaring treatments can be. You'll have silky smooth, soft skin that will last up to four weeks! You'll find us at 1114 Williams Reserve Blvd., Suite A in Wadsworth, OH. You can also make a reservation online or call 330-336-8411 to schedule your sugaring treatment appointment. Prefer to schedule your appointment on your mobile device? Download our free Bellezza Avanti Spa/Salon mobile app today. You'll find it on iTunes and Google Play.