Get Beautiful Nails and More from Regular Manicure/Pedicure Treatments
April 20 2020
Everyone loves gorgeous nails, and regular, professional manicure and pedicure appointments can keep your hands and feet looking amazing. Many think of the manicure, pedicure as something we do on special occasions, but there are plenty of reasons to schedule regular appointments at least once a month.
Beautiful nails. The most obvious benefit of the professional manicure and pedicure is beautiful nails. It's not only about the colors, but also about perfectly trimmed nails, even shapes, soft hands, and all the extras like gorgeous, creative nail art or manicure styles like French manicures, tips, and fills. 
Healthy skin. Part of the professional manicure and pedicure process involves exfoliating and moisturizing. We regularly do this for the skin on our face, but hands and feet can become neglected. A regular schedule of professional manicures ensures that the skin on your hands and feet get the care they need to keep skin healthy and looking young and beautiful.
Access to more colors and products. At home, your access to products is limited, because professionals invest in all the products and tools needed to care for your hands and feet. Our professional salon has more colors to choose from than you can get at home, as well as professional services that aren't possible outside the salon, like spa treatments, masks, and specialized products. At our salon, you can choose your color and relax, letting our professional technicians do all the work for you.
The massage. A massage is an important part of a professional manicure and pedicure service, and it does much more than just make you feel good. Massages help stimulate circulation, delivering more oxygen to your cells and flushing away toxins. This is especially important on the hands and feet, since your extremities are the farthest away from the heart, which is why some people experience cold hands and feet more often than other parts of the body. Regular massages on your extremities helps keep them healthy inside and out, and regular, professional manicure & pedicure services can help.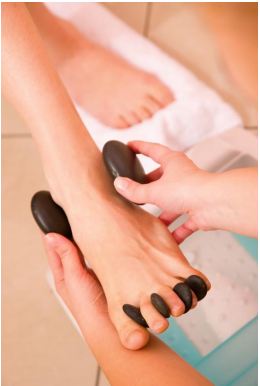 Fight infections. No one wants to think about fungal infections, but they happen, especially on the feet, which are often neglected but also can provide the perfect environment for fungus to grow. Most people don't notice fungal infections until they become painful, swollen, and embarrassingly noticeable, because the first signs of an infection can be hard to spot. Our professional nail technicians are trained to find those early signs of infection and use treatments that can help before a fungal infection can become a problem. When you schedule regular manicure and pedicure appointments, our technicians are inspecting your hands and feet regularly, so we can address any issue before it's even noticeable.
Get some "me time." There's no doubt about it – the world can be stressful. Between work and family responsibilities and all the many details we have to handle throughout the day, it can be hard to find the time to de-stress for a mental health break. Regular manicure and pedicure appointments at our salon give you the chance to escape from it all for a few minutes and do something just for yourself. The great thing about professional manicure and pedicure appointments at our salon is that you can do it alone or with friends – however you like to be pampered. Come alone and enjoy some quiet time for yourself, or make it a fun "girls day" and catch up with friends while you all get pampering treatment. Either way, it's a great way to escape from stress and just relax. There is no doubt that regular, professional manicure and pedicure treatments can make a positive difference in your life. We recommend regular appointments at least once or twice a month for gorgeous nails and regular pampering treatment. Make your appointments today at Bellezza Avanti Spa & Salon and experience the difference our professional nail technicians can make for your hands, feet, and nails. You can find us at 1114 Williams Reserve Blvd., Suite A in Wadsworth, make a reservation online, or call 330-336-8411 to schedule your appointment. Want to schedule appointments instantly on your mobile device? Download our free mobile app from iTunes or Google Play.